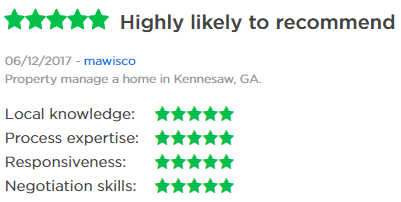 Lynne Irby is my Commercial Property Manager. She is very smart, very intelligent in Real Estate Services and especially always dependable. I am very fortunate to be able to rely on her management skills.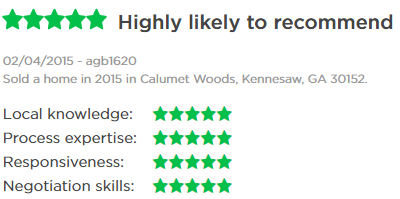 Wonderful Agent. Worked well together and kept me informed. This has been the greatest experience and it was Lynne that made it so. She communicated well with me and all the questions I had were answered swiftly. She got an offer on my home within a week of putting it on the market...I didn't have time to stage it! WOW, she is the best.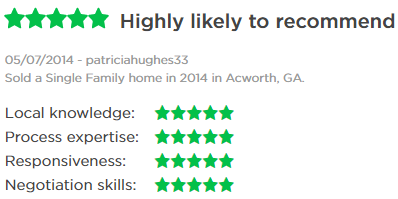 We had a pleasure working with Assist 2 Sell twice now. First time was 15 years ago when we bought our house. Based on our prior experience we asked for their help with selling our house in May/ July 2017, when we were relocating. Our agent was Becky Powell. From the point we met with her to discuss potential sale, to the point we signed property sale document (and beyond) we were thoroughly impressed by her level of dedication, professionalism, knowledge of real estate business, and ability to anticipate pitfalls and guide us around them. Becky made the whole transaction easier for us. We would highly recommend working with Assist 2 Sell and Becky Powell. Thank you! - Olga, West Cobb
Always prompt in returning my calls and answering all my questions. Kept my informed during the entire process of selling my home. We're still working together in searching for my next home, and Lynne has been great at sending us photos of houses in the areas where we're looking. Great agent!
I have had the pleasure of knowing Lynne Irby professionally, for about 15 years. She has been my "financial savior" during the real estate downturn. I don't really know how she manages to keep my properties full, but it is indeed close to a miracle. Lynne is hones, dedicated and dependable. She is available 24/7 and quite simply the best Property Manager and Realtor I have ever had.A Perrotta, Owner/Seller/Buyer - Property Manager and Real Estate Agent
Once we met Becky our home search took on a whole new dynamic. She was super diligent and knowledgeable regarding the marketplace. Becky understood what Heidi and I were looking for and was resilient in finding the right home for us.. not an easy task considering the attributes and factors we needed to make things work . She made us feel so comfortable representing our interests and went way over and beyond from beginning to end. I'm so glad we met Becky and will certainly be using her in the future!! Make your home search easier and use Becky..she's an awesome person and realtor!! -Thomas and Heidi, Powder Springs, GA
Lynne Irby is hands down the best real estate agent in Cobb County. She handled both the sale of my home and the purchase of my new home which I am thrilled about. She is a very hard worker and goes above and beyond for each client. Her energy level is second to none. Outstanding!!CG - Marietta Sellers and Buyers
Thank you very much for all your hard work in getting our house sold and the closing accomplished. Buying and selling is hard work for all involved and Bobby and I are very grateful for your expertise and guidance in caring for us and the details. We would be happy to have glass of wine with you and show off the new house!Bobby and Evelyn Ray - Acworth Sellers and Buyers
Lynn was the best agent we have had. She was always available, and on the rare occasions she wasn't, quickly responded with when she would be available whether it be via call, text or email. She had great ideas to increase the number of showings on our home and knew the market very well. She was committed, hard working and willing to do what ever it took to get buyers and agents in our home. Her kind smile and positive attitude kept us motivated throughout the selling process. Closing was a breeze with her as she is very organized. She always kept us informed on where we were in the process and what the next steps were. With Lynn, there was never a doubt. We would definitely recommend using Lynn and Assist 2 Sell for buying or selling your home.S- Family - Bentwater Sellers